il Corpo nel Suono 2016
II international conference
28 ottobre ⎪ 1 novembre 2016
Accademia Nazionale di Danza
​Rome
"Il Corpo nel Suono" is at its second edition thanks to the surprising feedback received last year. An outcome first witnessed by the curiosity and passion of those artists who participated in it, gave us the certainty of being on the right path, one in which music and dance, as in all systems, needs to be investigated from their relationship, not just from their individual languages; as if to design a cartography composed of communicating paths instead of places.
This year's edition is organized as a musical score in which the obliged sections are flanked by several "ad libitum", cadences left to the discretion and initiative of who desires to partecipate. As it will be in the open debates of "Piano Circus", dedicated to music for dance class and also in the sessions of "Scena Aperta", improvisational jams with musicians and dancers.
The field of musical collaboration in dance class will also draw on the insights of Marco Melia, on the use of electronics, Karen McIver, on the importance of the experience of improvisation. This intervention, along with those of Kim Helweg and Antonio Sorgi, will be part of "Scambi di Formazione", reflections and contributions emerging in Europe from the programs concerning the education of musicians working with dance.
For the activity proposed to deepen the interaction between sound and movement, are the workshops of Ivan
Mijačević
, Massimo Carrano, Marco Ariano, Mounir Saeed and the "Body Percussion" by Keith Terry, who will also be performing in an individual performance.
In the area of historical memory, as an opportunity to reintroduce and understand the present, are the meetings with Erin Brannigan, which explores three key intersections between music and dance in the '900, and a survey of several unpublished or forgotten scores by Louis Horst, re-emerged from the musical archive of Suzanne Knosp.
The last day will be devoted to a collective reflection on some of the many issues relevant to the role of the musician in dance. Despite occasional attempts of questioning this figure, of wanting declassified the indispensable function, we continue to offer a vision, generated from the creative experience and the richness of the many artists involved, with whom we trace a map in which we do not cease to recognize ourselves.
---
Fornito da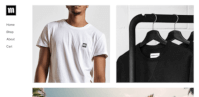 Crea il tuo sito web unico con modelli personalizzabili.